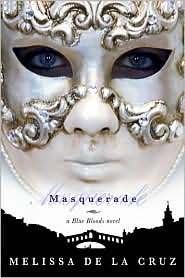 Everyone in the Blue Blood community is shaken by the attack on Cordelia Van Allen, and the deaths of young Blue Bloods across the city. Schuyler knows that the Silver Bloods are behind it, but no one will tell her anything about them—the adults either refuse to acknowledge their existence, or are too frightened to. So she sets off to Venice with Oliver to search for her grandfather, Lawrence Van Allen, who supposedly has the answers she seeks. Meanwhile, back in New York, Bliss is devastated at Dylan's death and refuses to accept the fact that he is dead, and Mimi is slowly realizing that Jack might not be hers for very long unless she does something. And that something may involve conspiring with the one person who is determined to obliterate them all.
Breathtaking action and suspense dominates Melissa de la Cruz's second book in the
Blue Bloods
trilogy. The plot steers away from the rich and luxurious lifestyle slightly, and focuses a bit more on the silent war between the Blue Bloods and Silver Bloods, and dark secrets that have been kept among the Blue Bloods, making for a more convoluted and fascinating plot. More information is given on Blue Blood powers and weaknesses, and it seems that just as de la Cruz cleverly ties up one mystery, she open up two more. Schuyler and Bliss's characters are more fully realized in masquerade, especially as they begin to mature as Blue Bloods. Schuyler is also forced to deal with her feelings for both Oliver and Jack, leaving readers even more torn than ever. All of these many elements combined will only further draw readers into the glitzy and edgy Blue Blood world, and invoke some strong feelings of anticipation for the solutions to many puzzling mysteries. This highly creative and absorbing book will thrill readers.